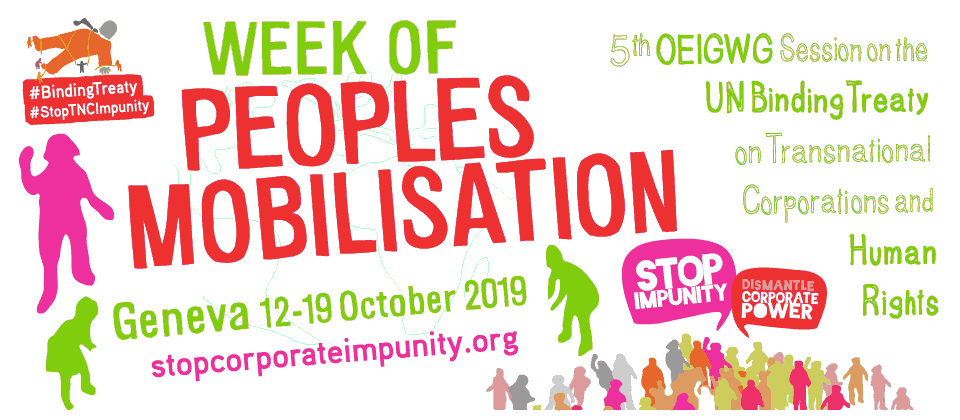 SAVE THE DATE!
WEEK OF PEOPLES MOBILISATION
12 – 19 October 2019
2019 WILL BE A DECISIVE YEAR FOR THE BINDING TREATY ON TRANSNATIONAL CORPORATIONS AND HUMAN RIGHTS!
We call to mobilise worldwide on 12th October to denounce Corporate impunity, on the occasion of the Week of Peoples Mobilisation in Geneva
JOIN IN TO RECLAIM PEOPLES RIGHTS OVER INVESTORS AND CORPORATE PROFITS AND IMPUNITY
Neoliberal globalization has opened the doors for the savage exploitation of the world by the big economic powers. Megaprojects, agribusiness and militarization, among other processes, express a patriarchal, neoliberal and racist system that amounts to an assault on life as such. As a result, peoples' rights have been systematically violated, the Earth and its resources destroyed, pillaged and contaminated, while corporations continue committing economic and ecological crimes with total impunity. They also throw us into an environmental and climate crisis of unknown proportions, for which they do not take responsibility.
Driven by their imperative to maximize profits, transnational corporations (TNCs) seek to pit workers from different regions against one another throughout the entire supply chain. The systematic violations of human rights that affect millions of people, who were forcibly expelled by extractive industries, free trade or the business of war and forced to long migratory routes, constitute new markets and profits for civilian and military companies.
Communities and peoples are resisting the advance of this offensive that implies, in most cases, the combination of the institutional action of far-right governments with actions that violate the collective rights of peoples driven by actors such as transnational corporations. The evidence on the violation of human rights at the hands of these companies is widely documented and on the ground translates into environmental disasters, the death of activists, leaders of communities and peoples.
The signing of new international trade and investment treaties gives more rights to "the investors" than to the affected people and communities. Worse, through the investor-state dispute settlement mechanism (known as ISDS), corporate interests are shielded to the detriment of the public interest.
In order to challenge corporate power and the system that protects and benefits it, it is necessary and urgent to give a systematic response. We must unite our experiences, struggles, collectively learn from our victories and our failures, share strategies and analysis in order to curb the impunity of the transnationals. The United Nations Binding Treaty process on transnational corporations and human rights constitutes a space, within the framework of the Human Rights Council of the United Nations, from where we can force corporations to respect human rights, creating a mechanism so that affected states and peoples can sue transnational corporations.
The 5th Session of the Open-ended Intergovernmental Working Group (OEIGWG) in Geneva will take place from October 14 to 18. The Global Campaign to Reclaim Peoples Sovereignty, Dismantle Corporate Power and Stop Impunity will be there again, as every year since 2014, to continue to pressure governments and prevent them from derailing the process.
In that context:
We join the call of the European Campaign "Rights for people, rules for corporations – Stop ISDS" that will mobilize between October 11 and 18 in Europe denouncing corporate power.
We convene the Week of Peoples Mobilisation in Geneva (Switzerland) from 12 to 19 October
We call to mobilise in protest against corporate power on October 12 across the planet and to pressure governments to advance the Binding Treaty. It is an important day that reminds the "discovery" of America initiating a colonial process that has a continuity with the current economic policies imposed by the most powerful countries to the Global South.
Who we are
The Global Campaign to Reclaim Peoples Sovereignty, Dismantle Corporate Power and Stop Impunity (Global Campaign) is a network of over 250 social movements, civil society organisations (CSOs), trade unions and communities affected by the activities of TNCs. These groups resist land grabs, extractive mining, exploitative wages and environmental destruction caused by TNCs globally but particularly in Africa, Asia, Europe and Latin America. The Global Campaign is a peoples global structural response to unaccountable corporate power. It provides facilitation for dialogue, strategizing, exchanging information and experiences and acts as a space to make resistance visible and deepen solidarity and support for struggles against TNCs.
More information on the UN Binding Treaty process
SEE PDF VERSION OF THE PROGRAMME
See here the detailed activities in the City of Geneva
Global Campaign to Reclaim Peoples Sovereignty, Dismantle Corporate Power and Stop Impunity
Campaña Global para Reivindicar la Soberania de los Pueblos, Desmantelar el Poder corporativo y poner fin a la impunidad
Campagne Globale pour Revendiquer la Souveraineté des Peuples, Démaneler le Pouvoir des Multinationales et mettre fin à l'impunité
Programme of the Week of Peoples Mobilisation (10-18 October 2019, Geneva)
Programa de la Semana de Movilización de los Pueblos (10 – 18 de octubre, Ginebra)
Programme de la Semaine de Mobilisation des Peuples (10 au 18 octobre, Genève)

Date/fecha

TIME/HORARIO/horaire

ENGLISH

CASTELLANO

FRANÇAIS

VENUE/LUGAR/Endroit

10/10/2019

16h00 – 20h30

16h00: Cultural part
18h30: Public conference "De-colonising ourselves. Reflection and activism. Afro-Indigenous women in resistance against transnational corporations." (see the poster here)


16h00: Parte Cultural
18h30: Conferencia pública "Descolonicemonos. Reflexión y activismo. Mujere afro-indígenas en resistencia contra las transnacionales"

16h00: Partie culturelle
18h30: Conférence publique "Décolonisons-nous. Entre réflexion et activisme. Femmes afro-indigènes en résistance contre les multinationales".

UNI-MAIL GENEVE Room MR070 (Bd. Pont d'Arve, 40)

12/10/2019

13h30

Massive demonstration

For the Amazon, Indigenous Peoples and Climate Justice. Stop Corporate Impunity and Free Trade Agreements

Manifestación pública

Por la Amazonía, los Pueblos Indígenas y la Justicia Climática, detengamos la impunidad de las transnacionales y los acuerdos de libre comercio

Manifestation publique: Pour l'Amazonie, les Peuples Autochtones et la Justice Climatique. Stop Multinationales sans foi et aux traités de libre-échange

Rue du Mont-Blanc, zone piétonne (Geneva, Ginebra, Genève)

14/10/2019

All day / todo el día/toute la journée

Advocacy activities/Oral interventions

Cabildeo/intervenciones orales

Activités de pladoyer / interventions orales


Palais des Nations / UN Palais


10h30 – 11h15

Public demonstration with the Tour Action "Geneva to Vienna: Rights for People-Rules for Corporations – Stop ISDS"

Manifestación pública con el Tour-Action "De Ginebra a viena: Derechos para las personas – normas para las transnacionales – Stop ISDS"

Rassemblement publique avec le Tour-Action "De Genève à Vienne: Des droits pour les peuples, des règles pour les multinationales – Stop ISDS"


UN Square / Place des Nations

13h-15h

Side Event with Parliamentarians

Evento Paralelo con Parlamentario/as

Evénement parallèle avec des membres de Parlements

Palais des Nations 
(Room XXII)


19h00

Presentation of "Expanded Siena" A Lab on democracy around the world from a grassroots perspective.

Presentación del "Expanded Siena". Un laboratorio sobre democracia en el mundo desde la perspectiva de los movimientos de base.

Présentation de "Expanded Siena". Un laboratoire sur la démocratie au niveau global, à partir de la perspective des mouvements de base.

Maison des Associations (Rue des Savoises, 15)

15/10/2019

All day / todo el día/toute la journée

Advocacy activities/Oral interventions

Cabildeo/intervenciones orales

Activités de pladoyer / interventions orales

Palais des Nations / UN Palais

13h00 – 15h00

Side Event "The construction of a treaty: analysis of the revised draft"

Evento paralelo " La construcción de un tratado: análisis del borrador revisado"

Evénement parallèle "La construction du Traité: analyse"

Palais des Nations
(Room XXII)

19h30

Public Conference: "Transnational corporations and the walls-industry. Migrant, women and Palestinian movements resistances"

Conferencia Pública: "Empresas transnacionales y la industria de los muros. Resistencias desde los movimientos de migrantes, mujeres y Palestina"

Conférence publique: "Les multinationales et l'industrie des murs. Résistance des mouvements de migrants, des organisations de femmes et de la Palestine"

UNI-MAIL GENEVE Salle MR280 (Bd. Pont d'Arve, 40)

16/10/2019

All day / todo el día/toute la journée

Advocacy activities/Oral interventions

Cabildeo/intervenciones orales

Activités de pladoyer / interventions orales

Palais des Nations / UN Palais


13h00 – 15h00

Side Event : "A legally binding instrument: another tool of resisting corporate impunity during occupation"

Evento paralelo: "El instrumento legalmente vinculante: otra herramienta para resistir la impunidad corporativa durante la ocupación"

Événement parallèle "L'instrument juridiquement contraignant: un autre outil pour résister à l'impunité des multinationales dans les cas d'occupation"

Palais des Nations (Room XXIII)

17/10/2019

All day / todo el día/toute la journée

Advocacy activities/Oral interventions

Cabildeo/intervenciones orales

Activités de pladoyer / interventions orales

Palais des Nations 

13h00 – 15h00

Side Event : "Revised draft: analysis from the affected and experiences of international litigation"

Evento paralelo "Borrador revisado: análisis desde los afectados y las experiencias de litigio internacional"

Événement parallèle "Version révisée du Traité: analyse à partir de la perspective des communautés affectées et expériences de contentieux internationaux"

Palais des Nations Room XXII

19h30

Public Conference: "Climate justice, fossil industries and corporate impunity" and Film presented by Madonna Thunder Hawk "Warrior Women" (more info on the Film here)


Conferencia Pública "Justicia climática, industrias fósiles e impunidad corporativa" y película presentada por Madonna Thunder Hawk "Warrior Women" (más información sobre la película aquí)


Ver aquí el programa detallado

Confé rence Publique "Justice climatique, industries fossiles et impunité des multinationales" et film présenté par Madonna Thunder Hawk "Warrior Women" (plus d'info sur le film ici)


Palais des Nations 

18/10/2019

All day / todo el día/toute la journée

Advocacy activities/Oral interventions

Cabildeo/intervenciones orales

Activités de pladoyer / interventions orales

Palais des Nations / UN Palais