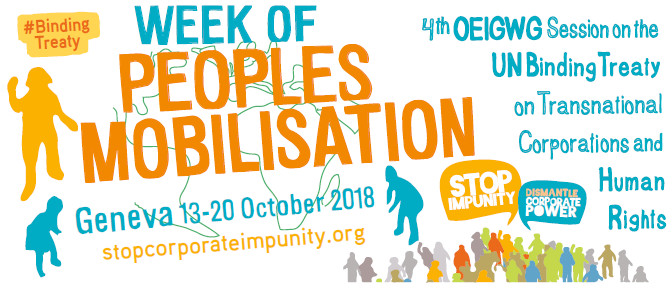 JOIN US IN GENEVA FROM OCT 13 to 20, 2018
2018 WILL BE A DECISIVE YEAR FOR THE BINDING TREATY ON TRANSNATIONAL CORPORATIONS AND HUMAN RIGHTS!
BE THERE TO RECLAIM PEOPLES RIGHTS OVER INVESTORS AND CORPORATE PROFITS AND IMPUNITY
 
Who we are
The Global Campaign to Reclaim Peoples Sovereignty, Dismantle Corporate Power and Stop Impunity (Global Campaign) is a network of over 250 social movements, civil society organisations (CSOs), trade unions and communities affected by the activities of TNCs. These groups resist land grabs, extractive mining, exploitative wages and environmental destruction caused by TNCs globally but particularly in Africa, Asia, Europe and Latin America. The Global Campaign is a peoples global structural response to unaccountable corporate power. It provides facilitation for dialogue, strategizing, exchanging information and experiences and acts as a space to make resistance visible and deepen solidarity and support for struggles against TNCs. At the same time the Global Campaign: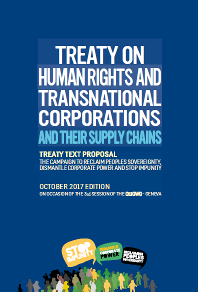 Proposes an International Peoples Treaty which provides a political framework to support the local, national and international movements and communities in their resistances and practices of alternatives to corporate power and the TNC model of the economy.
The Week of Peoples Mobilisation in Geneva (13 – 20 October 2018) coincides with the 4th Session of the Open-ended Intergovernmental Working Group mandated to develop a UN Binding Treaty on Transnational Corporations and other business enterprises with respect to Human Rights (OEIGWG). As in 2014, 2015, 2016, and 2017 we are back in Geneva in order to continue pressuring governments to keep the process of building the Binding Treaty and moving forward. 
What are we planning?
At the UN Square: we will launch the Week of Peoples Mobilisation jointly with representatives of the Global Inter-Parliamentary network, affected communities, movements, trade unions and other networks and organisations.  We will also organise Workshops under the Tent of the Global Campaign.
Inside the UN: as in other years, there will be coordinated participation inside the OEIGWG Plenary, where we will be seeking in particular testimonies of affected communities, both in Side Events and in focussed advocacy with governments. 
In the city of Geneva: in coordination with the local University Students Union (Conférence Universitaire des Associations d'Etudiant/Es – CUAE), with local organisations and movements, we'll co-organise 3 Public Events at the University of Geneva and the Maison des Associations, and participate in a Public Demonstration for Climate Justice.
More information on the process
See at this link the official programme of the OEIGWG 4th Session
Global Campaign to Reclaim Peoples Sovereignty, Dismantle Corporate Power and Stop Impunity

Campaña Global para Reivindicar la Soberania de los Pueblos, Desmantelar el Poder
Campagne Globale pour Revendiquer la Souveraineté des Peuples, Démaneler le Pouvoir des Multinationales et mettre fin à l'impunité
Corporativo y Poner Fin a la Impunidad

Programme of the Week of Peoples Mobilisation (13-20 October 2018, Geneva)

Programa de la Semana de Movilización de los Pueblos (13-20 de octubre, Ginebra)
Programme de la Semaine de Mobilisation des Peuples (13 au 20 octobre, Genève)

Date/fecha

TIME/HORARIO/horaire

ENGLISH

CASTELLANO

FRANÇAIS

VENUE/LUGAR/Endroit

Fri/Viernes 12 Oct

18h15 – 20h30

Public Conference: Peoples analysis and responses to confront Green Capitalism towards Climate Justice

Conferencia Publica: Frente al Capitalismo verde: analisis y respuestas de los Pueblos hacia la justicia climatica

Conférence Publique: Face au Capitalisme Vert: Analyses et réponses des Peuples pour la Justice Climatique
University of Geneva/Universidad de Ginebra (Uni-Mail, Salle R060)


Sat/Sap/Sam 13 Oct

13h30 – 16h

Participation at the Marche Climat 2018, convened by Swiss organisations to reclaim Climate Justice

Participación en la Marche Climat 2018, organizada por las organizaciones suizas en defensa de la Justicia Climática

Participation à la Marche Climat 2018, organisée par les organisations suisses en défense de la Justice Climatique

Rue du Mont-Blanc, zone piétonne (Geneva, Ginebra, Genève)

Mon/Lu 15 Oct

12h

Press Conference of the Global Campaign and Launch of the Week of Peoples Mobilisation

Rueda de prensa de la Campaña Global y lanzamiento de la Semana de Movilización

Conférence de Presse de la Campagne Globale et Inauguration de la Semaine

Tent / Carpa / Tente (Place des Nations)

13h-15h

Side Event with Parliamentarians

Evento Paralelo con Parlamentario/as

Evénement parallèle avec des membres de Parlements
Palais des Nations (Room: XXIII)


16h – 18h30

Workshop: Privatisation of Democracy

Taller: Privatización de la Democracia

Atélier: privatisation de la démocratie

Tent of the Global Campaign at UN Square / Carpa de la Campaña Global sobre la Plaza de las Naciones

All day / todo el día

Advocacy activities/Oral interventions

Cabildeo/intervenciones orales

Activités de pladoyer / interventions orales

Palais des Nations

Tue/Mar 16 Oct

9h30 – 11h30

Workshop: Industry of Walls and security

Taller: industria de los muros y la seguridad

Atélier: industrie des murs et sécurité

Tent / Carpa / Tente (Place des Nations)

13h-15h

Side Event: Upholding the OEIGWG Mandate for the Legally Binding Instrument. Comments on "Draft Zero"

Evento Paralelo: Defensa del mandato del OEIGWG sobre el Tratado Vinculante. Comentarios sobre el "Draft Zero"

Evénement parallèle: Défense du Mandat de l'OEIGWG sur le Traité Contraignant. Commentaires sur le "Draft Zero"


Palais des Nations (Room: XXIII)

16h -17h30

Workshop: Trade & Investment Regime

Taller: Régimen de Comercio e Inversiones

Atélier: Regime de Commerce et Investissements

Tent / Carpa / Tente (Place des Nations)

18h – 19h30

Workshop: Cities. Rigths to housing, water, public services, alternatives

Taller: Ciudades. Derecho a la ciudad, vivienda, servicios públicos, alternativas

Atélier: Villes. Droit à la ville, logement, services publics, alternatives

Tent / Carpa / Tente (Place des Nations)

19h30

Public Conference: Private international arbitration tribunals a danger to Peoples Sovereignty. The case of Chevron in the Ecuadorian Amazon


Conferencia Pública: Tribunales de Arbitraje Internacionales, un peligro para la Soberanía de los Pueblos. El caso de Chevron en la Amazonía ecuatoriana

Conférence publique: Les tribunaux d'arbitrage internationaux privés un danger pour la souveraineté des peuples Le cas de Chevron en Amazonie équatorienne


Maison des Associations (Rue des Savoises, 15)

All day / todo el día

Advocacy activities/Oral interventions

Cabildeo/intervenciones orales

Activités de pladoyer / interventions orales

Palais des Nations

Wed/Mierc 17th Oct

9h – 11h30

Workshop: Energy Sovereignty and Climate Justice

Taller: Soberanía Energética y Justicia Climática

Atélier: souveraineté energétique et justice climatique

Tent / Carpa / Tente (Place des Nations)

12h30 – 14h30

Workshop: Mining and alternatives

Taller: Minería y alternativas

Atélier: Mines et alternatives

Palais des Nations

15h30 – 17h00

Workshop: Water & TNCs

Taller: Agua y transnacionales

Atélier: Eau et multinationales

Tent / Carpa / Tente (Place des Nations)

18h – 20h

Workshop: Food Sovereignty

Taller: Soberanía alimentaria

Atélier: Souveraineté Alimentaire

Tent / Carpa / Tente (Place des Nations)

All day / todo el día

Advocacy activities/Oral interventions

Cabildeo/intervenciones orales

Activités de pladoyer / interventions orales

Palais des Nations

Thurs/Jue 18 Oct

9h – 11h30

Workshop: Work and migration

Taller: Trabajo y Migración

Atélier: Travail et Migration

Tent / Carpa / Tente (Place des Nations)

13h-15h

Side Event organised by the Global Campaign. Affected Communities and Access to Justice

Evento Paralelo organizado por la Campaña Global. Comunidades Afectadas y acceso a la justicia

Evénement parallèle de la Campagne Globale. Communautés affectées et accès à la justice

Palais des Nations (Room: XXIII)

16h-18h

Workshop: Health and TNCs

Taller: Salud y transnacionales

Atélier: santé et multinationales

Tent / Carpa / Tente (Place des Nations)

All day / todo el día

Advocacy activities/Oral interventions

Cabildeo/intervenciones orales

Activités de pladoyer / interventions orales

Palais des Nations

19h30

Public Conference: "Devant l'assaut des multinationales, organisons nos luttes"
Conferencia Pública. "Devant l'assaut des multinationales, organisons nos luttes"

Conférence Publique. "Devant l'assaut des multinationales, organisons nos luttes"

University of Geneva/Universidad de Ginebra (UNI-Mails, Salle MR290)


Fri/Viernes 19 Oct

Afternoon / Tarde/après-midi

Advocacy activities/Oral interventions

Cabildeo/intervenciones orales

Activités de pladoyer / interventions orales

Palais des Nations
Contact:
campaign @ stopcorporateimpunity.org
m.vargas @ tni.org
Press contact: soltrumbovila @ tni.org
Follow us:
Twitter: @StopTNCimpunity
Facebook: @stopcorporateimpunity
#BindingTreaty #StopCorporateImpunity