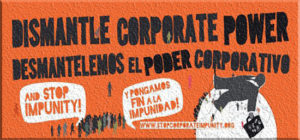 SIDE EVENT
On the occasion of the fourth session of the UN Human Rights Council open-ended intergovernmental working group on transnational corporations (TNCs) and other business enterprises with respect to human rights (OEIGWG), the Global Campaign to Reclaim Peoples Sovereignty, Dismantle Corporate Power, CETIM and FIAN International are pleased to invite you to participate in the side event on: 
Affected communities and access to justice. The debate on the UN Binding Treaty on TNCs and Human Rights.
Thursday 18th October, 13.00 – 15.00
Palais des Nations Unies, Geneva (Room: XXIII )
Speakers:
Justino Piaguague, Unión de Afectado/as por Chevron –Texaco en Ecuador 
Carolina Ntaopane, African Women Unite against Destructive Resource Extraction (WOMIN), South Africa 
Pak Kin, LESN, Hong-Kong
Jille Belisario, Transnational Migrant Platform – Europe 
Victor Limaypuma, Frente de Defensa de los intereses y por el Desarrollo de Cotabambas, Peru
Claudia Sala de Pinho, CNPCT, Brazil
Kwami Kpondzo, Friends of the Earth Togo
Jan Fermon, International Association of Democratic Lawyers, Belgium
Moderator: Stephan Backes, FIAN International
Interpretation to French, Spanish and English
Worldwide, communities affected by corporate activities encounter important barriers when it comes to access to justice. These barriers are even almost insurmountable when environmental crime or human rights harm occur through the activity of transnational corporations abroad. In this Side event, representatives of affected communities and activist lawyers will give their testimonies and put forward how the UN Binding Treaty has to adequately address the access to justice. The iconic case of Chevron in Ecuador will be exposed by an Indigenous leader representing 30.000 affected people, and other testimonies will be heard from Asia, Latin America, Africa and Europe.
Contact: Stephan Backes (backes@fian.org) and Raffaele Morgantini (contact@cetim.ch)