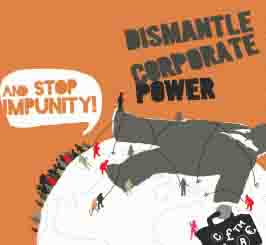 The Global Campaign to Reclaim Peoples Sovereignty, Dismantle Corporate Power and Stop Impunity strongly condemns the police firing on citizens protesting against the Vedanta- Sterlite copper smelter plant in Tamil Nadu, India. The indiscriminate firing by police snipers on 22 May has led to the death of at least 12 people.
The killings of, and the brutal attack on, ordinary citizens who were protesting for the right to clean air and water and against the rogue global corporation Vedanta is unacceptable. For over two decades, Vedanta-Sterlite, a global mining conglomerate headquartered in London, has violated environmental and land use laws with impunity in the coastal town of Thoothukudi in Tamil Nadu. Government medical reports indicate a high incidence of respiratory illnesses, cancer and menstrual disorders amongst the local population. Further, high levels of cadmium, nickel and arsenic in the vicinity of the plant has made the area unsuitable for agriculture.
The latest series of peaceful protests began 100 days ago. On the 100th day of the indefinite protest, more than 100,000 people began marching to the district headquarters, demanding an immediate closure to the copper smelter plant and a permanent halt to Vedanta's expansion plans in the region.
Rather than respect the demands of the protestors, the Tamil Nadu Government ordered snipers to fire to kill in an attempt to break and demoralise the peoples protest. Reports indicate that more than 4000 police personnel are still conducting raids in nearby villages to intimidate the protestors. A five day internet shutdown has been ordered in Thoothukudi and two other nearby districts.
We stand in solidarity with citizens groups across India who are protesting this act of police and state violence. We demand: 
    An immediate closure of the Vedanta plant and a halt to further expansion in the region
    Stringent action against the police officers who ordered the shooting of protestors
    Adequate compensation for the families of those killed and injured.
    The Government of India must make Vedanta pay fully for the widespread environmental harm and damage to public health.
Also available in: Spanish