Join us in the Peoples Mobilisation to dismantle the Architecture of Impunity and the Corporate Capture of the United Nations Conference on Climate at the "Paris 2015" – COP21!
29 November – 12 December 2015, Paris
#StopTNCImpunity   #COP21   #climate21 (@StopTNCimpunity) 
We just have published a Storify (in English) that explain the activities developed by the Global Campaign together with other organizations and networks during the COP21 in Paris.
Among the key drivers of the environmental collapse that affects the whole planet, it's important to highlight the Trade and Investment regime as well as the role of TNCs.  Among the Top 25 corporations classified by revenue, 15 are linked to the fossil fuels industry, being accountable for greenhouse gas emissions – e.g Shell, Exon-Mobil, Sinopec-China Petroleum, BP, Petro China, Total, Chevron, ENI, Petrobras, Gazprom, Statoil. Corporations are also leading the false solutions to climate change, based on profit-making schemes, as well as aggressively capturing the agenda and policy making of the UN climate talks.
To confront this situation, the coalition of more than 180 social movements, networks and organisations from the Global Campaign to Dismantle Corporate Power and Stop Impunity, convenes the Peoples Mobilisation to dismantle the Architecture of Impunity and Corporate Capture, on the occasion of the United Nations Conference on Climate "Paris 2015" (COP21).
During the Days of Mobilisation in Paris, through different workshops and in coordination with several networks and campaigns on Trade-Investment and Climate Change, as well as with the Treaty Alliance, the Campaign will:
–       Open the space for a collective analysis on the exposure of cases of corporate impunity in different regions, jointly with members of affected communities and key actors from the Global South.
–       Present a concrete proposal for a Peoples international treaty, based on Peoples Sovereignty. This affirms an alternative vision on law and access to justice with the people as protagonists, political actors and originators of the laws and norms of a political, economic and legal system that will contribute to end the current framework of extraordinary privileges and impunity claimed by transnational corporations.
–       Share the state of play on the process towards a UN Binding Treaty and the work of the Inter-governmental Working Group (IGWG) and the challenges of effective participation by movements and CSOs.
–       Share strategies and flag up the political Calendar for better coordination of convergence activities to dismantle the Trade & Investment regime and the widespread corporate capture of political as well as economic structures.
In particular, we are participating in the organisation of: 
– The Workshop "Peoples Sovereignty versus the Architecture of Impunity" (Sunday 6th Dec, 10 am – 12 pm, Peoples Climate Summit, Montreuil, Lycée Jean Jaures/ Salle polyvalente). See the programme here
-The Workshop "Towards a UN Binding Treaty on TNCs & Stopping the Trade-Investment Regime and Climate Change" (Sunday 6th Dec, 2 pm – 4 pm,Peoples Climate Summit in Montreuil (Metro Line 9 Marie de Montreuil) Collège-Lycée Jean Jaurès – Salle 406). See the programme here
-The Convergence Assembly "Bringing together: trade, climate, corporate power" (Tuesday 8th Dec, 2-5 pm, CICP, 21 Rue Voltaire, 75011 Paris). Please share the event: https://www.facebook.com/events/879297395501521/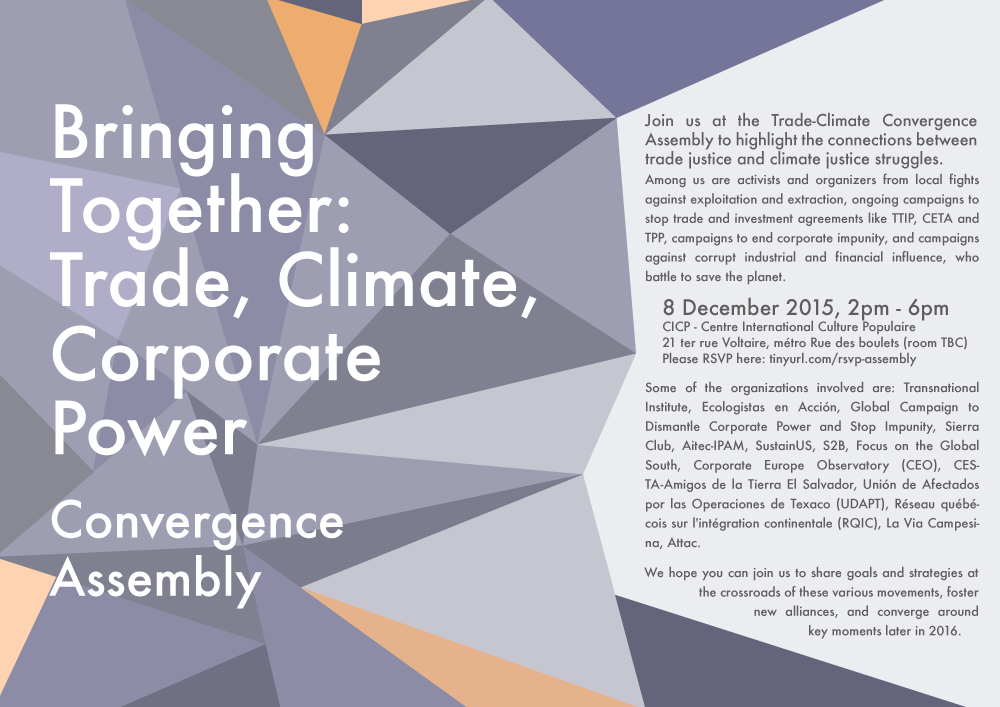 –        The Convergence Assembly "Bringing together: trade, climate, corporate power" (Tuesday 8th Dec, 2-5 pm, CICP, 21 Rue Voltaire, 75011 Paris)
The programme of Mobilisations and self-organised activities related to corporate capture and the Architecture of Impunity can be consulted at the following link: MOBILISATIONS PROGRAMME
Vous pouvez consulter la version française du programme au lien suivant: FRENCH ROGRAMME
Contact: m.vargas@tni.org