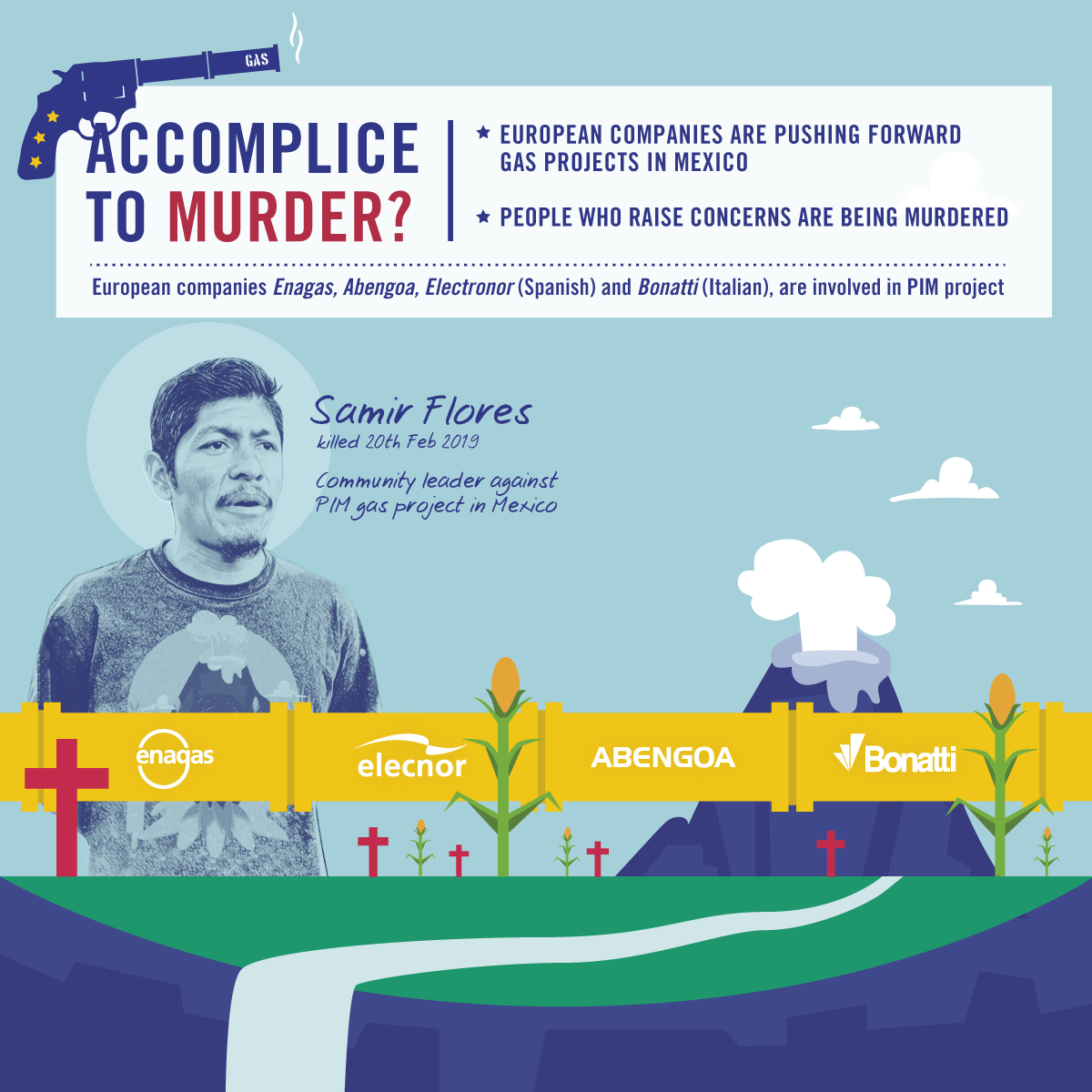 On February 20, Samir Flores Soberanes, a Náhuatl indigenous activist and community organiser in Morelos, Mexico, was assassinated. We, organisations and collectives, mourn his death and our thoughts are with his family, friends and compañeros.
After numerous threats, Samir Flores was the victim of a political murder to silence his fight against the construction of a gas pipeline and gas power plant, the Proyecto Integral Morelos (PIM). He was part of a broad resistance of campesino movement fighting for water, land, dignity and autonomy.
The Spanish companies Elencor, Abengoa, Enagas and Italian company Bonatti are the promoters and constructors of the project. French company Saint-Gobain is one of the main beneficiaries.
The corporations involved in the project are based in Europe. They are ruthlessly betting on more fossil fuels, disregarding communities, their environment and our global climate on their path to more profit.
We will hold these companies accountable and we ask them to immediately step out of the project until a due process of justice has delivered a credible outcome.
We stand by the communities of Morelos in their demands for justice from the state and federal authorities who have alienated the movement rather than engage in real dialogue. We reject the recent manipulated consultation of the project conducted by the federal government.
We acknowledge that the death of Samir Flores is not an exception. Indigenous defenders in Mexico have been threatened, killed and subjected to violence with increasing regularity over the last years.
There is an urgent need for protection of defenders in Mexico. We reaffirm the responsibility and role of Western and European companies in violating human and indigenous rights and the necessity for our organisations, politicians and activist networks to fight corporate impunity.
SIGNATURES
The Gastivists Collective, noelie@gatsivists.org 
Friends of the Earth international – loreto@foei.org 
Global Campaign to Reclaim Peoples Sovereignty, Dismantle Corporate Power and Stop Impunity (https://www.stopcorporateimpunity.org/)
350.org – amelie.canonne@350.org and nicolo@350.org
Friends of the Earth Europe – antoine.simon@foeeurope.org 
Coordination Climat Justice Sociale (Genève), elviejo@riseup.net
Leave it in the Ground Initiative LINGO, kjell.kuehne@gmail.com
Ekologistak Martxan, zor.ekologikoa@gmail.com
Climáximo, climaximo@riseup.net
Ecologistas en Acción, internacional@ecologistasenaccion.org
Reclaim the Power, (UK) info@reclaimthepower.org.uk
NoTAP Belgium, notap.belgium@disroot.org
Amis de la Terre France/Friends of the Earth France, cecile.marchand@amisdelaterre.org 
ceccam, Peter Rosset, rosset@ceccam.org.mx 
Urgewald, regine@urgewald.org
Ashish Kothari, Kalpavriksh, (India) chikikothari@gmail.com
Plataforma Algarve Livre de Petróleo, palpalgarve@gmail.com
Friends of the Siberian Forests (Russia), laletin3@gmail.com
Bristol Rising Tide (Bristol, UK), bristol@risingtide.org.uk
Biofuelwatch (UK) biofuelwatch@gmail.com 
Ambiente, Desarrollo y Capacitación, Jorge Varela, ambienteadc@gmail.com
Institute for Policy Studies, (USA Washington D.C.), Manuel Pérez-Rocha,  
Trenzando Ilusiones, (La Paz – Bolivia), Elizabeth Peredo Beltrán
Plataforma Ciudadana Zaragoza sin Fractura, zaragozasinfractura@gmail.com
Asociación de Cultura Popular Alborada (Gallur), alborada.gallur@gmail.com
NOAH Friends of the Earth Denmark, nanna@noah.dk
NoTAP Italy, notap.movement@gmail.com 
Limity jsme my (Czech Republic), mikulas.cernik@gmail.com
Agroécologie et Environnement Vert (Tunisia), mkalboussi@gmail.com
Collectif BreakFree Suisse, collectif_breakfree@riseup.net
Amigos de la Tierra España, Héctor de Prado sosclima@tierra.org
KRUHA People's Coalition for the Right to Water, (Indonesia) kruha@kruha.org
Nodo Cantabria PX1NME. px1nme_cant@gmail.com
Сenter for Civil Liverties (Ukraine)
BankTrack, lise@banktrack.org 
Frack off London – info@frackofflondon.org.uk
Frack Free Sussex – info@frackfreesussex.co.uk
Frack Free Surrey – info@frackfreesurrey.com
Weald Action Group – info@wealdactiongroup.org.uk
Nonprofit civic initiative NAŠ Jadran (Croatia) – vbstudiologic@gmail.com
Re:Common – info@recommon.org
YouthStrike4Climate Parents group – brightonagainstfracking@gmail.com
CIVICUS –  natalia.gomez.pena@civicus.org
Justiça Global, Brasil – raphaela@global.org.br
Observatorio de Multinacionales en América Latina (OMAL) – Paz con Dignidad, omal@omal.info
Pilar Ortega Marcelo- pom131256@gmail.com
TierrActiva Colombia – tierractiva.colombia@gmail.com
Corporate Europe Observatory – pascoe@corporateeurope.org
Fossilgasfällan – kontakt@fossilgasfallan.se
Comitato verità è giustizia per i nuovi desaparecidos, <alemecozzi@gmail.com>
Rogue Climate (Oregon, USA) – allie@rogueclimate.org