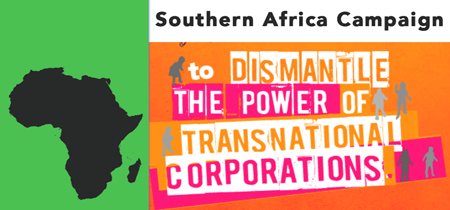 The Southern Africa Campaign to Dismantle Corporate Power, as part of the Global Campaign to Reclaim Peoples Sovereignty, Dismantle Corporate Power and Stop Impunity (stopcorporateimpunity.org), is organising the Southern Africa Permanent Peoples Tribunal on Transnational Corporations.
The first session will take place in Manzini (Swaziland) on 16th and 17th August 2016, in parallel to the Peoples Summit (17th to 19th August), hosted by the Southern Africa Peoples Solidarity Network, that meets in parallel to the SADC Heads of State Summit.
During the 2-day session, 10 communities from Southern Africa will present their cases – the suffering they have endured at the hands of Transnational Corporations, through the monstrous structure of corporate impunity– to a plenary of respected jurors. See the cases presented here.
More information and resources:
Call to Action of the Southern Africa Campaign (open to endorsements) 
Newsletter of the Southern Africa Campaign (July 2016) 
"The Peoples' Tribunal on Transnational Corporations in Swaziland: the cases of Vale and Jindal in Mozambique" (Real World Radio programme on the PPT)
Interview with Ilham Rawoot ahead of the Peoples' Tribunal in Swaziland
Details on the PPT for participants 
Message from the Presidency to the Opening Session on on the Role of Transnational Corporations in Southern Africa
For more details contact:
Ilham Rawoot
ilham@aidc.org.za
stopcorporateimpunity.org
Follow the Southern Africa Tribunal by Twitter: @StopCorpPower