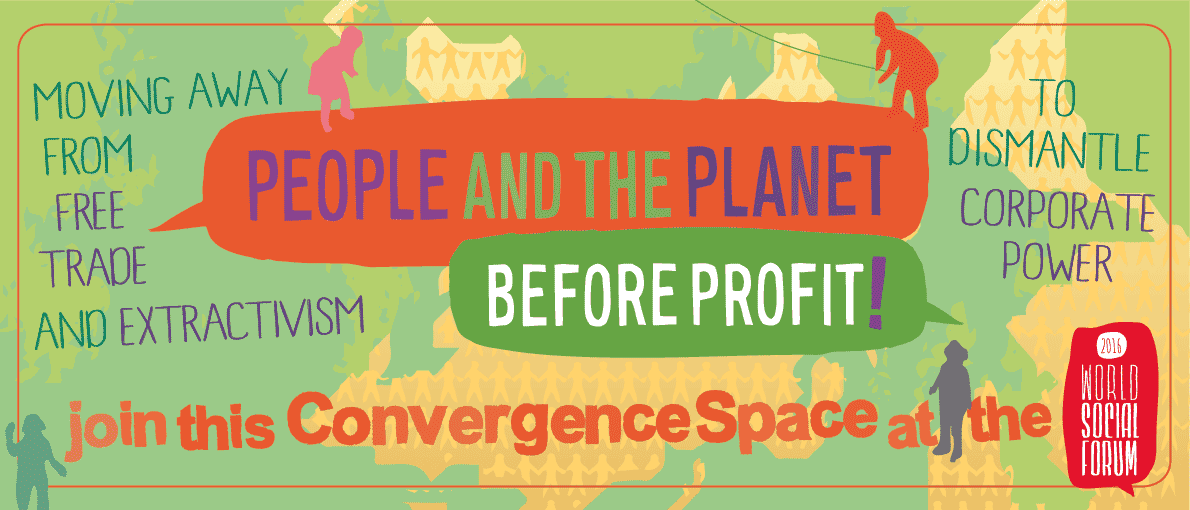 Urgent letter to the Canadian Government
See here the protest letter of the Global Campaign in front of unjustified mass refusal of visas to participants from the Global South that is taking place in the preparation of the World Social Forum
Canadian Visa Denials: Support the World's right to Meet!
At the World Social Forum in Montreal (9-14 August 2016), the Global Campaign to Reclaim Peoples Sovereignty, Dismantle Corporate Power and Stop Impunity will be organising:
The Workshop:
Dismantle Corporate Power: Peoples Sovereignty versus the Architecture of Impunity
Day: Thursday 11 August
Time: 9 am – 11.30 am
Venue: Université du Québec à Montréal – Pavillon A (Local A-2860)
400, rue Sainte-Catherine Est, Montréal
Languages: English, French, Spanish
With the participation of: La Via Campesina, Unión de Afectado/as por la Chevron (UDAPT), Marche Mondiale des Femmes, Articulação Internacional das Atingidas e Atingidos pela Vale, Movimento dos Atingidos por Barragens (MAB-Brazil), CADTM, Attac – Spain, Transnational Institute (TNI), War on Want, Attac-Argentina, RQIC, Polaris Institute, Stop the Wall, Focus on the Global South, GUE/NGL.
More information and contact:
campaign@stopcorporateimpunity.org
https://www.facebook.com/stopcorporateimpunity/
@StopTNCimpunity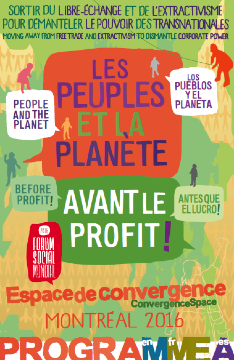 The Global Campaign will be present at WSF under the umbrella of the Convergence Space: "PEOPLE AND THE PLANET BEFORE PROFIT! Moving away from Free Trade and Extractivism to Dismantle Corporate Power. ", that is convened by more than 100 international, regional and national movements, networks and organisations.
As part of the World Social Forum the space provides an opportunity for groups and movements, that battle everywhere against extractivism and work for social justice, attack the architecture of Free Trade and Investment Agreements, challenge daily the power of corporations, and fight for climate justice, to come together. The aim is to build momentum and strengthen the coordination of front-line, direct, non-violent, disturbing and anti-systemic actions to confront the neoliberal capitalist system.
See here the narrative of the Convergence Space and the more than 100 endorsements
Click here to see the Full Programme of Activities of the WSF that are related to extractivism, corporate impunity and/or Free Trade Agreements
(English, Spanish, French)
See here the programme on Palestine for the WSF as well as the calendar
A first Strategy Meeting will be held before the WSF on August 9 from 2 PM to 5 PM (FIQ 1234, avenue Papineau, Montréal) leading to a Second Strategy Meeting on August 11 from 1 PM to 3:30 PM [Université du Québec à Montréal – Pavillon SB (Local SB-M210) 141, avenue du Président-Kennedy], both aiming at bringing together our visions and identifying potential streams of articulation and action so that our battles resonate, in all their diversity, towards real system change. This process will culminate in an action-driven Convergence Assembly "People and the Planet Before Profit! Moving Away from Free Trade and Extractivism to Dismantle Corporate Power" on August 12, from 4 pm to 6 pm (UQAM – Pavillon A – Local A M050)
More information and contact:
https://www.facebook.com/comiteextractivismeFSM2016
Also available in: Spanish