Source: FIAN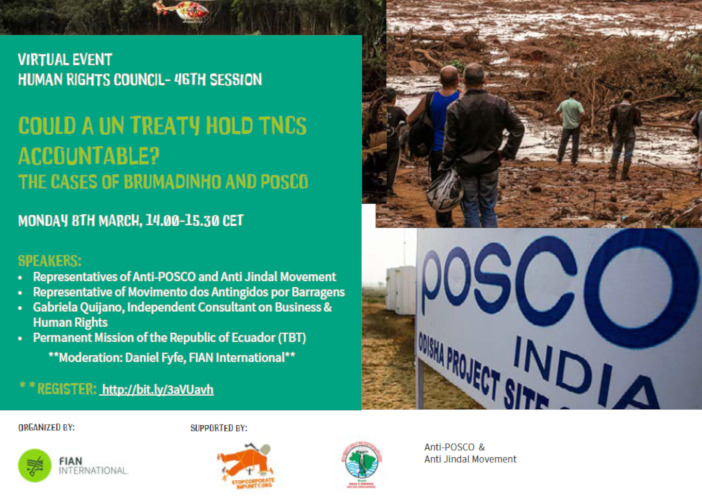 Could a UN Treaty hold TNCs accountable?
The cases of Brumadinho and the POSCO-India Project
Webinar on 8th March 2021 at 14.00-15.30 CET in the context of the current Human Rights Council session and presentation of the IGWG report on TNCs and other business enterprises with respect to human rights.  
Register here: http://bit.ly/3aVUavh
Would the current second revised draft treaty contribute to preventing human rights violations by transnational corporations (TNCs) and other business enterprises? Would it really support communities in holding such actors to account? How would this current draft deal with ongoing corporate –crimes and violations, which remain in impunity?
These are some of the crucial questions that we all must ask.
We are pleased to invite you to this virtual parallel event on the 8th of March (14.00-15.30 CET) on the occasion of the 46th Human Rights Council session. In this event, we will connect the abstract and often technical content of the second revised draft treaty with the concrete realities that communities face when attempting to access effective justice and remedies, and to hold TNCs to account. Concretely, we will explore how this draft would effectively tackle the emblematic cases of Brumadinho in Brazil and POSCO in India. Any future treaty should be strongly based on people's realities and address existing vacuums.
The event has been organized by FIAN International, with the support of Movimento dos Atingidos por Barragens (MAB), The Posco Pratirodh Sangram Samiti (Anti POSCO and Anti Jindal Movement), and the Global Campaign to Reclaim Peoples Sovereignty, Dismantle Corporate Power and Stop Impunity.
Interpretation will be provided in English and Spanish