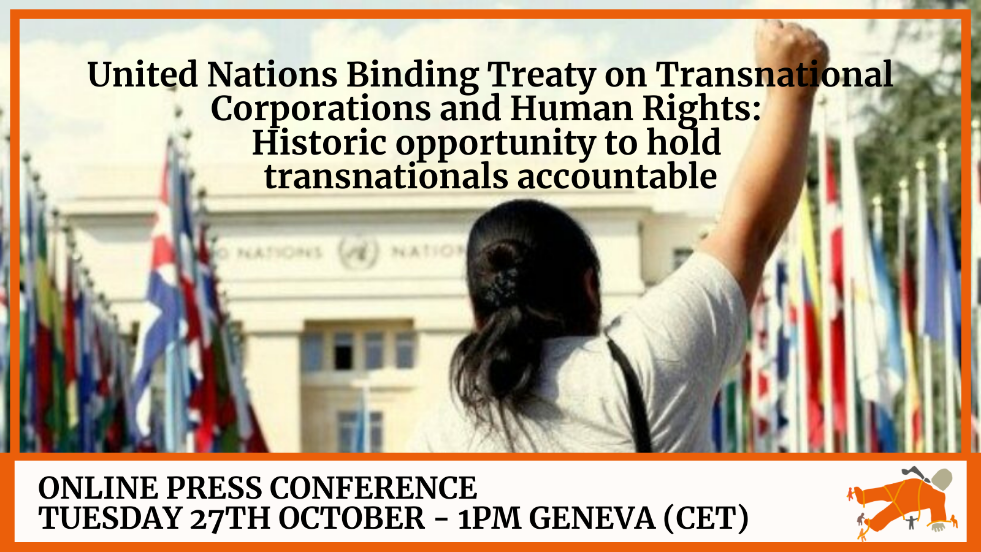 In the context of the UN Binding Treaty negotiations next week, you can find here the invitation to the press conference hosted by the Global Campaign to Reclaim Peoples Sovereignty, Dismantle Corporate Power and Stop Impunity (Global Campaign) and the Global Interparliamentarian Network in support of the UN Binding Treaty (GIN).
ONLINE PRESS CONFERENCE
United Nations Binding Treaty on Transnational Corporations and Human Rights: Historic opportunity to hold transnationals accountable
TUESDAY OCTOBER 27TH 2020 1:00 PM Geneva, Central European Time.
Interpretation to English – French – Spanish
Check it in your time zone here.
Register here: http://bitly.ws/ammo

The sixth session of the UN Human Rights Council open-ended intergovernmental working group (OEIGWG) on transnational corporations (TNCs) and other business enterprises with respect to human rights will be held in Geneva between the 26th and 30tth of October. This groundbreaking process could imply major changes to international human rights law and is increasingly attracting the attention of civil society, UN member states delegates, and peoples' representatives worldwide. The press conference, at which high level political and civil society actors will be present, will be an opportunity to obtain insights about this historic process and the expected further developments.
Panelists:
Charles Santiago. Member of Malaysian Parliament. Chairperson of ASEAN Parliamentarians for Human Rights, Malaysia
Leila Chaibi. Member of European Parliament, European United Left–Nordic Green Left, France
Dr. Manoela Carneiro Roland. HOMA's Coordinator (Human Rights and Business Center) Prof Federal University of Juiz de Fora, Brazil
Keamogetswe Seipato. Coordinator of the Southern African Campaign to Dismantle Corporate Power. Alternative Information & Development Center (AIDC), South Africa.
The press conference will include time for reporter questions.
Contact for the press: soltrumbovila @ tni.org