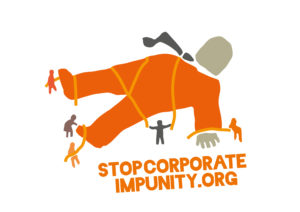 Alive and Kicking: The UN Binding Treaty on TNCs and human rights
Civil society perspectives from the regions
VIRTUAL SIDE-EVENT
At the occasion of the 46th session of the UN Human Rights Council 

Organizer: Global Campaign to Reclaims People's Sovereignty, Dismantle Corporate Power and Stop Impunity
Date: Thursday 18th of March, 2pm-3.30pm (CET)          
PANEL
Presentation and moderation
Tchenna Maso – Movimento dos Atingidos por Barragens/La Via Campesina [Castellano]
Representatives from ASIA
Rachmi Hertanti – Indonesia for Global Justice/Asian Task Force  [English]
Manja Bayang – Indigenous Peoples Rights International/Asian Task Force [English]
Vidya Dinker – Growthwatch/Indian Social Action Forum/Asian Task Force [English]
Representatives from AFRICA
Kea Seipato – Alternative Information and Development Centre (AIDC) [English]
Chika Onyejiuwa – Africa Europe Faith and Justice Network (AEFJN) [English]
Representatives from LATIN AMERICA
Alejandra Scampini (PODER) [Castellano]

Ivan Gonzalez – Trade Union Confederation of the Americas (TUCA)/Continental Plateform for Democracy and against Neoliberalism  [Castellano]
Representatives from EUROPE
Juliette Renaud (Friends of the Earth France) [English]
Jill McArdle (Friends of the Earth Europe) [English]
In October 2020, the 6th session of the Open-Ended Intergovernmental Working Group (OEIGWG) mandated to elaborate a legally binding instrument on transnational corporations and human rights took place. Despite less than ideal working conditions due to the COVID-19 pandemic, negotiations on the third version of the draft treaty went ahead. Civil society organizations, in particular social movements and representatives of affected communities, ensured that the voice of those affected was brought to the negotiation thanks to an impressive virtual mobilization.
It is worth highlighting the important mobilization at the regional level carried out by different organizations, movements and networks. Prior to the 6th session, regional consultations on the treaty process were held in Africa, Latin America and Asia. These consultations brought together organizations, state representatives, academics and many of those involved in the process who are affected by the operations of transnational corporations and the global value chains they control. This unprecedented mobilization demonstrates the unity of a large part of civil society worldwide and its commitment to this historic project. During these regional consultations, the future of the process and its challenges, collective strategies, as well as more technical and substantive issues were discussed. They served to prepare joint advocacy strategies which were implemented in number of states and to raise public awareness in all regions. Despite the claims of its detractors, the process towards a binding treaty on TNCs and human rights is more alive than ever.
During this event, we will present the results of these mobilizations at regional level, in order to foster a debate on how to ensure the OEIGWG takes these contributions into consideration in the negotiation process. We will also address the upcoming challenges of the process and the regional strategies to face these.
Contact: Raffaele Morgantini (CETIM):  contact (at) cetim.ch
Also available in: Spanish